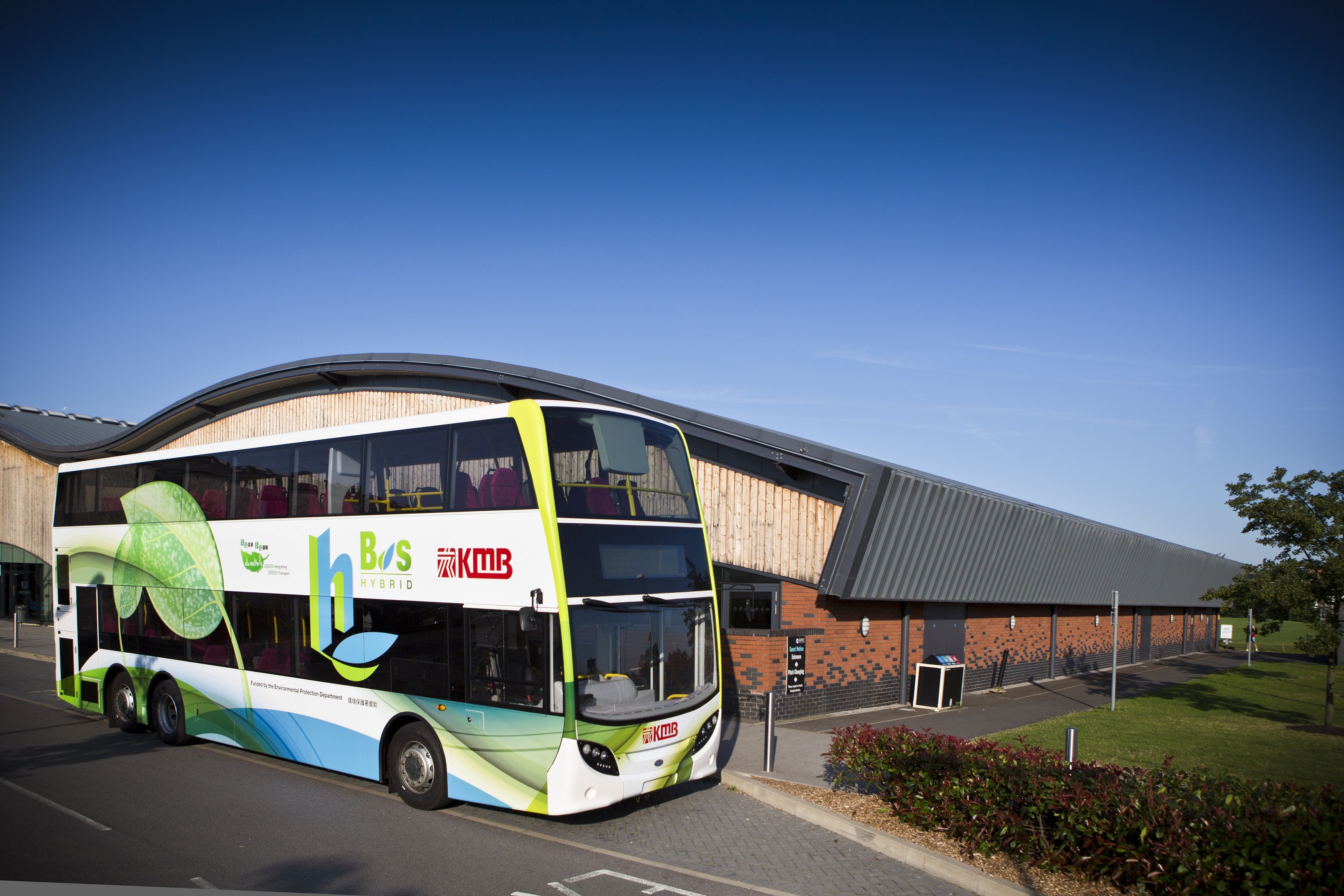 Alexander Dennis Enviro500 Tri-Axle Hybrid
Image from KMB's press release
Kowloon Motor Bus (KMB), Citybus and New World First Bus Services Limited (NWFB) are to use the Alexander Dennis Enviro500 (Tri-Axle) hybrids in Hong Kong for a comprehensive service trial. The buses are funded by the Environmental Protection Department in order to cut harmful emissions in the congested streets of Hong Kong.
"KMB is pleased to announce that Hong Kong's first environment-friendly Euro VI engine hybrid double-deck bus "hBus" will arrive KMB in early September, and enter service in the fourth quarter this year. Funded by the Environmental Protection Department, the hBus is a 12-metre 3-axle air-conditioned double-deck with a diesel-electric "Hybrid Series" propulsion system,
allowing fuel saving of up to 30% while reducing the emission of major pollutants, such as PM by 50% and NOx by 80% compared to Euro V standards."
Second statement from KMB
"Co-developed by KMB and the bus manufacturer for three years and funded by the Environmental Protection Department ("EPD"), "hBus", Hong Kong's first double-deck bus powered by a Euro VI hybrid engine, has joined the KMB fleet after delivery earlier this month. The bus is expected to enter passenger service on three urban routes starting the fourth quarter this year.KMB will arrange for hBus to go through the Transport Department's "type approval test" and licensing procedures before it enters passenger service. Initially, "hBus" will run on three urban routes: 1A [Sau Mau Ping (Central) ←→ Star Ferry], 104 [Kennedy Town ←→ Pak Tin] and 619 [Shun Lee ←→ Macau Ferry]."
Statement from Citybus and NWFB
"New World First Bus ("NWFB") and Citybus announce today the introduction of three Government subsidised 12-metre Enviro500 Hybrid Double Decker Buses from Alexander Dennis Limited. The three hybrid buses will arrive at Hong Kong from mid-September and are expected to begin service from the fourth quarter of this year for a comprehensive service trial."
There will be a total of six Enviro500 Hybrid buses in Hong Kong, so should Transport for London's Subsidiary, London Buses, trial the Enviro500 Tri-Axle Hybrid bus on the congested streets of London? It would increase the capacity to 116 passengers in comparing to their double deck bus requirements to a minimum capacity of 87 passengers.
Quite recently, TFL's Commissioner Peter Hendy
said on The Guardian
, "there could be social unrest if low-paid workers now living on city outskirts cannot easily commute". Well TFL can use the Tri-Axle hybrid bus which Hong Kong bus services is trialling, so they should use it because of the capacity increase.
If you think London Buses should use the Enviro500 Hybrid on one of the routes, discuss it in the comments below.